Surroundings / Siena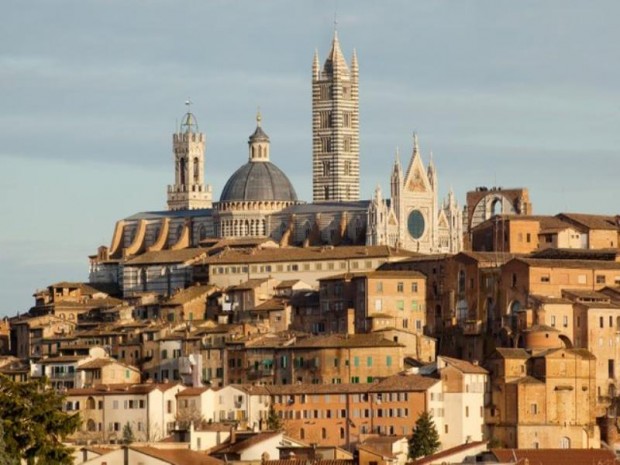 The medieval Gothic city and the former city state in the heart of Tuscany, nowadays has about 60,000 inhabitants. Siena is known as one of the most beautiful cities of Italy and is situated amidst an enchanting Tuscan landscape. .
The historic part of the town has maintained it's medieval image, Siena is a walled city of buildings and houses built on narrow streets that radiate warmth from the rich colour of the red bricks, out of which almost all buildings are constructed.
The impressing harmony of beautiful buildings, medieval squares and idyllic alleys invites you to take a walk into history.
Beside her many works of art, the "Pearl of Gothic" is also known for the Palio, the horse race which takes place twice a year around the world famous and probably most beautiful square of Italy, the Piazza del Campo.
The square today is still the centre of public life. The square is conch-shaped and expands in the basin of the three hills on which Siena was built.
In the cool evening hours the atmosphere here is dazzling, an experience not to be missed.
The world-famous bank Monte dei Paschi, one of the oldest bank in Europe, was founded in Siena. Saint Catherine of Siena, is the patron saint and famous for having brought the Pope Gregory the XI back from Avignon. Pope Pius II, born Enea Silvio Piccolomini was from Siena. Today there are famous contemporaries such as the singer Gianna Nannini and her brother Alessandro, a former racecar driver, whose family owns cafés and bars.
Siena always attracts many tourists for its wonderful monuments and its numerous masterpieces to visit in its museums. Some great artists were born in Siena and among them it is to remind Duccio di Boninsegna and Nicola Pisano, who worked on the greatest masterpiece in Siena: the "Duomo", the great cathedral; of the city.
The historic centre of Siena has been declared by UNESCO a World Heritage Site.