Surroundings / Florence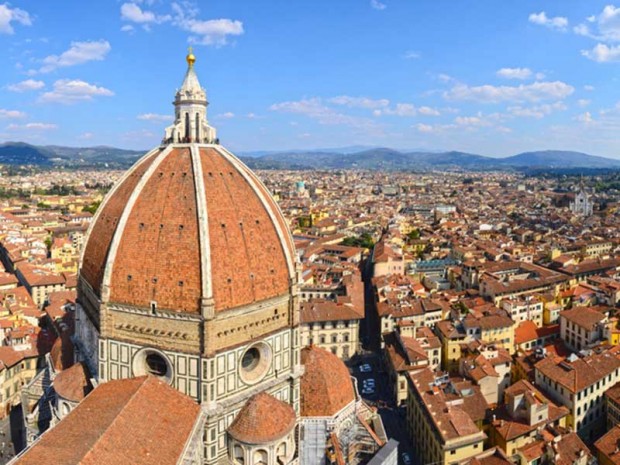 Florence is the capital city of the Italian region of Tuscany and of the province of Florence. It is the most populous city in Tuscany, with approximately 370,000 inhabitants, expanding to over 1.5 million in the metropolitan area.
Florence is famous for its history. A centre of medieval European trade and finance and one of the wealthiest cities of the time.
Florence is considered the birthplace of the Renaissance and has been called the Athens of the Middle Ages.
Florence is located in a lovely valley surrounded by hills and crossed by the River Arno. The city is rich in monuments, historical buildings, galleries and museums, expressing all the splendour of its ancient civilization.
The historic city centre reflects the great relevance of the town in terms of architecture. Many buildings date back to the period lasting from the late medieval (11th-12th century) until the period of the rule of the Medici in the 15th and 16th century and give proof of the scientific and cultural power of the town.
The works of Brunelleschi, Donatello and Masaccio are the finest examples of its importance. From 1865 to 1870 the city was also the capital of the Kingdom of Italy.
Famous throughout the world is the walk along the monuments, up to the beautiful Ponte Vecchio lined with quaint shops of goldsmiths.
There are many monuments and works of art to visit, including: the Campanile di Giotto begun by Giotto in 1334, Palazzo Pitti started on a design by Brunelleschi in the second half of 1400, the courtyard of Ammannati, Casa Buonarroti has some paintings of Michelangelo, Forte Belvedere from the end of 1500, Palazzo degli Uffizi, started in 1560 by Vasari, the Loggia della Signoria in 1376 began drawing up dell'Arcagno and Palazzo Vecchio built between 1293 and 1314.
The historic centre of Florence was declared a World Heritage Site by UNESCO in 1982.