Surroundings / Arezzo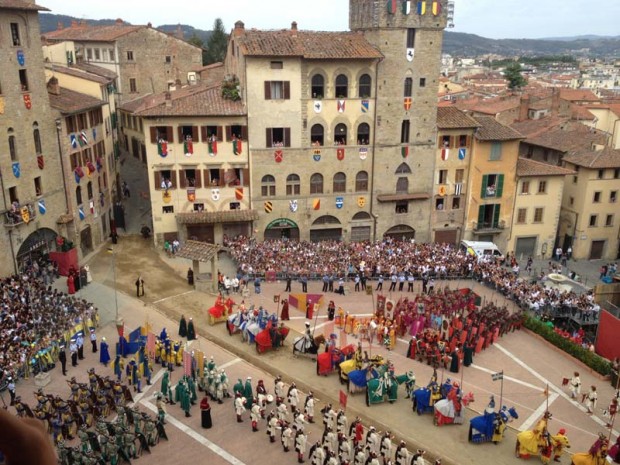 Arezzo, city and commune with about 100.650 inhabitants is the capital of the province with the same name.
Located in southeastern Tuscany, it sits atop a hill at the crossroads of four valleys: Val Tiberina, Casentino, Valdarno and Valdichiana.
Its ancient origins are verified by the stone tools and the so-called Man of the Elm discovered here and found to date back to the Paleolithic era.
Described as one of the Capitae Etruriae (Etruscan capitals), Arezzo is believed to have been one of the twelve most important Etruscan cities.
Even though the Medieval centre was destroyed during the World War II, Arezzo has plenty of monuments, churches and museums remaining that offer its visitors a chance to step back into history.
The Church of San Francesco is probably the most famous one in Arezzo, with an incredible Early Renaissance fresco cycle by Piero della Francesca depicting the Legend of the True Cross.
Uphill you find the Medicean Fortress. Important to visit is also the Cathedral dedicated to San Donato, the Roman Amphitheater and the Church of San Domenico with the wooden Crucifix by Cimabure.
Among the many attractions there is also the sloping Piazza Grande with the Church of Santa Maria della Pieve and the monumental Palazzo delle Logge.
Great artists such as Giorgio Vasari and Piero della Francesca were born in Arezzo.
The city became rich because of its handicrafts, especially the famous Aretines Vases and its still alive tradition of jewellers industry.